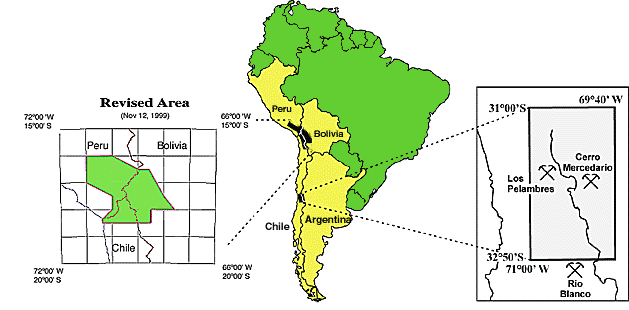 Consortium Aeromagnetic Spectrometry Surveys
(Activity: C.99/M-H1 - C.99/M-H2)
Two new aeromagnetic/spectrometry surveys are being planned similar to that completed in Argentina last year- (1) approximately 30,000 sq km. on the Argentina, Chile border, and (2) approximately 147,000 sq kilometres spanning the borders of Chile, Bolivia and Peru. Industry participation is sought for both surveys. For the first survey (Argentina-Chile), the participation cost is $35,000.00 US for which interested companies will receive exclusive use of the data for one year before general release. Interested companies should contact Eduardo Zappettini, Moyra Gardeweg or Dennis Teskey.
For the second survey (Chile, Bolivia, Peru), the financing will be more challenging, and thus the participation cost and exclusivity period will be negotiated with interested companies. Interested companies should contact Moyra Gardeweg, Humberto Mallo Gozales, Hugo Rivera Mantilla or Dennis Teskey. Both surveys will be managed by MAP and contracted by Public Works and Government Services Canada (PWGSC). Both surveys will provide information on the location of faults, contacts, intrusive rocks, and alteration zones, these will be of great interest to mapping geologists and to mineral exploration.
Upcoming Activities
Cartographic Standards - Peru
Fluid Inclusion training - Peru, Bolivia, Chile
PIMA training - Chile, Peru, Bolivia
Fission Track Work Chile - Chile
Field work - Bolivia, Chile, Peru
Chilean to work with Villeneuve- Ottawa, Canada
ICA (International Cartographic Association) - Ottawa, Canada
Executive Council Meetings - Bolivia
Please refer to Preliminary Calendar of Activities on page two to verify if proposed dates for activities correspond to availability of your institution. Also please advise Project Administrator as soon as possible if you require any changes to the Proposed Calendar.
Mineral Deposits Field Trip: Bolivia and Argentina (Activity: B.97/M-1)
The Mineral Deposits Field Trip is scheduled to commence on May 3rd in La Paz, Bolivia and conclude on May 17th in Tucuman, Argentina.
- Participants:
Argentina: Dr. Eduardo Zappettini, Ing. Adolfo Domingo , Ing. Eulogio Ramallo Bolivia: Ing. Humberto Mallo, Ing. Vitaliano Miranda, Ing. Hernán Uribe
Chile: Ing. Ricardo Troncoso, Dr. Waldo Vivallo, Geol. Jorge Muñoz
Peru: Ing. Elmer Boulangger, Ing. Mario Carpio Ronquillo
Canada: Dr. Andre Panteleyev, Dr. Jennifer Getsinger, Mr. Mike Ellerbeck
- Itinerary:
Bolivia
May 3: La Paz - Kory Kollo - Oruro.
May 4: Oruro - Mina Bolivar - Oruro. May 5: Oruro - Challapata - Potosí. May 6: Potosi - Pulacayo - Uyuni. May 7: Uyuni - San Cristobal - Potosi.
May 8: Potosi - Tupiza - Villazon Argentina
May 9: Villazon - La Quiaca.
May 10: La Quiaca - Pirquitas.
May 11: Pirquitas- Abra Pampa - Tres Cruces - Aguilar - Humahuaca.
May 12: Humahuaca - Purmamarca - Jama - Salinas Grandes - San Antonio de los Cobres - Pocitos - Mina Fenix.
May 13: Mina Fenix - Tincalayu - Mina Fenix.
May 14: Mina Fenix - Antofagasta de la Sierra - La Alumbrera.
May 15: La Alumbrera - Andalgala. May 16: Andalgala - Cuesta de Capillitas - Agua Rica - Andalgala.
May 17: Andalgala - Tucuman - End of Tour.
May 18: Return home.